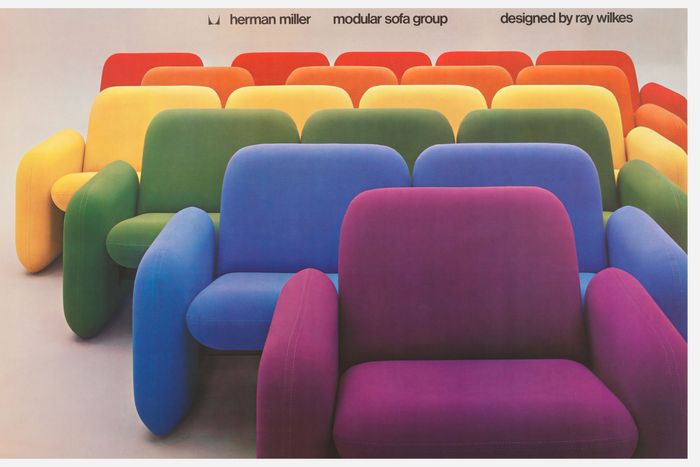 Photo: Cooper Hewitt, Smithsonian Design Museum/Art Resource, NY
No one quite knows how the Chiclet sofa got its name, not even Amy Auscherman, the head of archives at Herman Miller, the furniture company that first made the sofa in 1976. But it's easy to see the visual association with those little hard-shelled pillows of gum. "I don't know if it came about during internet time, or if it was used since the beginning, but as far as it's been in my consciousness, I've known it by that name," she says.
Today, the Chiclet, officially known as the Wilkes Modular Sofa Group, has grown a following from design fans and vintage dealers alike. The modular seating system, discontinued in 1986, has as fascinating a design pedigree as an Eames lounge chair, but with more pragmatic origins. And as of May 3, the Chiclet is back. The reissued version is almost exactly the same as the original, with a few updates like more upholstery colors and USB ports so you can charge your phone while you're snuggled in. The original fabric is out of production, but the manufacturing team found modern textiles that work just as well.
The reissued Wilkes Modular Seating group is made almost exactly the same as the original.
Photo: Herman Miller
Although it's become a prestige perch over time, as tastes have favored the postmodern over the modern, the Chiclet didn't start that way. Back then, Herman Miller's primary business was selling furniture to interior designers who were working on commercial and institutional projects like offices and universities. The company didn't have as many upholstered seating options as it wanted, so it hired the British designer Ray Wilkes to develop a new line. Project 5608-5/75, as it was known internally, had about 16 different "design criteria" that Wilkes and Herman Miller established. It had to be soft, comfortable, supportive, easy to assemble, easy to maintain, and easy to ship, either fully assembled or disassembled. Replaceable parts were a priority, as was being "friendly."
"This is a very Bill Stumpf criteria," Auscherman says, referring to the in-house designer who was a pioneer of ergonomic furniture. Stumpf's "Comfort Criteria" specified that furniture should be as inviting to the mind as the body. "You should look at it and say, 'I want to sit in this,'" Auscherman explains. "When you look at Wilkes's seating, it's like a friendly little cartoon product in a way, with these nice, soft edges and no corners."


Read More: Herman Miller Reissues The Chiclet Sofa